WHY HELLO AGAIN, office. While in some sense not that much has changed, with just a few additions I have come to love this room so much more. And in that way kind of EVERYTHING changed about how it feels to work in here. Every time I walked into this room, I had a tiny sigh at the huge, bare, ECHO-Y floors. One day all those cumulative sighs combined to reach the point where I realized that although not at the top of my decorating schedule, buying a rug in here would be very good.
Move-around-money-in-the-budget level of good. That feeling when you decide you are just going to GO FOR that thing you been eyeing. Yessss.
When I start decorating a room, sometimes I think of a few words to describe how I want the finished space to feel. There are many things people do to hone a decor vision, like making an idea collage, photoshop mock ups, or having an "inspiration piece" object.
For me, the couple of descriptive words route is very helpful. For the office, the words I have kind of been using are "posh collected clutter." Now for every choice or purchase I make, I ask is this "posh collected clutter"? And that really makes decisions easier. Because while I can like something, if it is mid-century or modern farmhouse or whatever else I think is great, but am not doing in this room, I can be disciplined enough to not go for it. You must edit, I tell myself.
A few samples of rooms I think represent this vibe. There you go, I kind of am making an idea collage too. AKA pinterest forever with heart eyes.
I observed a shag-y, tribal, black and white rug thing going on in all of these and was completely on board for that idea. Most of our home will have very traditional rugs, and since the office is a bit separated from the rest of the house (in the floor plan, but also just your state of mind when you're in your office working, apart from normal home life), I have planned for it to be a place where I do things a bit differently stylistically. (WHICH IS FUN).
I also welcomed the opportunity to do a really plush rug because 1) they are so comfy and 2) most of the time I think rugs look best if they are either shag or have tassels. And along with just coming off of my big diy project of adding tassels to a rug, I also wasn't in the mood to pay for something already tasseled since those are always more expensive.
There are lots of good options for the shag or tribal black and white look because it is so in style right now. (Side note: I wish clothing I like wearing best was always in style because I CANNOT STAND this boxy, short, and wide trend in shirts right now. It looks good on barely anyone. PLEASE I just want a long, not see through shirt. Let it come back.)
These are some of the rugs I shopped during my hunt. All of these are under $340, most way less. (Six is only $195!)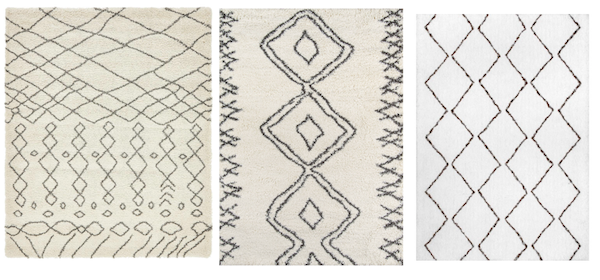 I picked twelve, the aubrey area rug in an 8 x 10. I was serious about three, but it was a bit too bold in here. It is so soft and shaggy, though. (And from target!) A great rug if it's right for your design.
The other element I knew I wanted in our office was that cool, collected feel from tons of photos tacked up all over the wall. That look always strikes me as artistic and inspiring.
Around the same time I was working on this, I was at the very end of my pregnancy and thinking I was about to go into labor all day. WHICH IS A VERY ANTSY TIME. Like, should I take a shower? I don't want to go to the hospital with my hair wet. Can I start cooking food? I'd probably accidentally leave the oven on when I rushed out. (None of this happened.) To prevent losing my mind I had to brave my concerns and start a little project, so I painted these hobby lobby bulletin boards with a test pot of sherwin williams "sea salt."
white ball lamp | faux succulent (similar) | desk knobs | standing desk | drafting stool | rug | white arm chair | chest of drawers (similar)
It looked so much better than the often overwhelming orange-y brown of cork board. And then I got to spend some time curating pretty things to put on the boards. EXCELLENT waiting for labor activity. (Or anytime.) It is just really relaxing to cut up some magazines and put together a pleasant sight to look at. These were a giant addition of style AGAIN FOR TOTALLY FREE-SIES.
Chatting with David the other night, I realized that though our office is not finished, it and the nursery are the places in our house that don't have any problems. So yes, the office needs more to it to be complete, but there's nothing I don't like in it. Which says something when most rooms have an eye sore we're itching to replace. Sometimes you can feel buried under how much is left to be done when renovating a fixer upper while living in it. But one or two rooms done or well on there way refreshes you. The office is my new favorite room to be in!
Above all, with the rug I don't have the problem of every person on the phone saying I am echo-y.
My New Cookbook

PRE-ORDER NOW:  AMAZON | BARNES & NOBLE