I love little homemade traditions that make the house special for christmas. And bonus are ones I could like doing solo or are easy to involve children with helping. This pretty citrus garland is WINTER PERFECT. I placed it in several different spots around the house at different times because it adds such a natural handmade pretty-ness everywhere it's placed. I even experimented with some hanging it straight vertically in different spots, in addition to the drapey bowed way over mantels, mirrors, or art type things.
Any type of oranges work for this! It is easy!
Preheat oven to 250 degrees. Slice oranges a quarter inch thick and arrange on a parchment paper lined baking sheet. Place in oven for about three hours, checking occasionally.
You might notice they'd benefit from being turned part of the way through or that some slices are starting to brown quicker than others so you can pull those ones out early.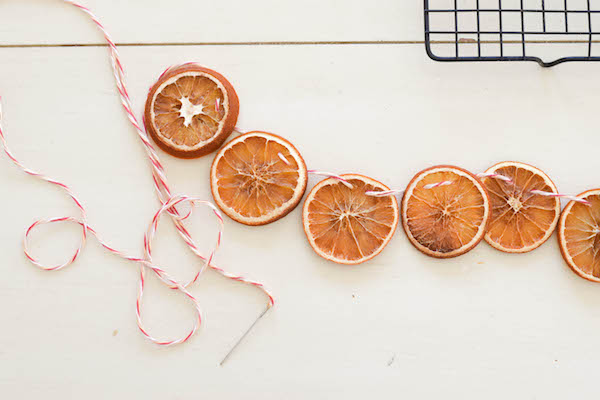 Remove oranges from oven and allow to cool. Thread string through the orange flesh to create a garland. (This is the great children helping part. I used a big, dull needle with a large eye.)
I did mine a little darker, but you could keep them in the oven a little less for a lighter shade that still keeps just fine. They will last from the day after Thanksgiving to January 1! (That's the life of christmas decor in our house.)
Merry Christmas! I love embracing using things that are available uniquely to each season.
My New Cookbook

PRE-ORDER NOW:  AMAZON | BARNES & NOBLE