I LOVE THE LOOK OF HEX TILES. For our powder room's white walls, I thought doing an intricate hex tile pattern with colored tiles would give it something special and be a statement to build the rest of the room around. I shopped a lot to find color tiles and they really just don't exist in many colors that are ready to order. Home Depot has the merola line of hex which comes in white, black, a nice seafoam green, and a not that great light blue.
I decided to order all my white tile from home depot and then I would custom order some colored tiles to create my pattern. I found a company willing to make tiles the exact size and finish as the home depot ones. I don't fully recommend the company I used, so if you want to know who it was message me, but I have some more things I'd say to someone before working with them.
The colors I got custom were navy, wine, and mustard yellow, and then also the stock light blue at home depot. I started experimenting with patterns.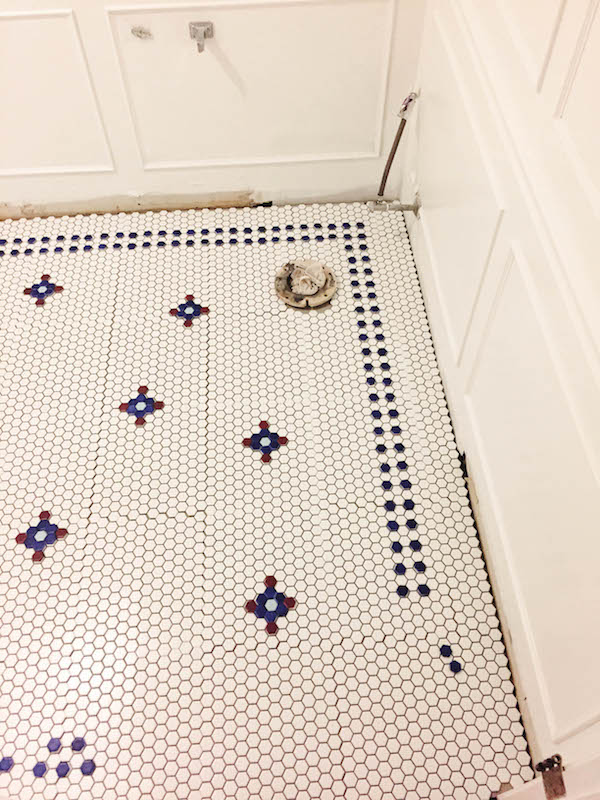 This was my favorite look I came up with using three colors. I did not like how mustard played with the others, so I didn't use it. I knew in advance I might not use all the colors, but ordering took so long I wanted options right away.
I know in a picture this floor looks really cool, but in person it wasn't quite right. The blue isn't really a navy (it's just how the photo is edited) and it's like a bright medium blue that isn't as nice.
I couldn't shake the feeling that this floor was too "bad pizzeria," so I decided to try a two color pattern.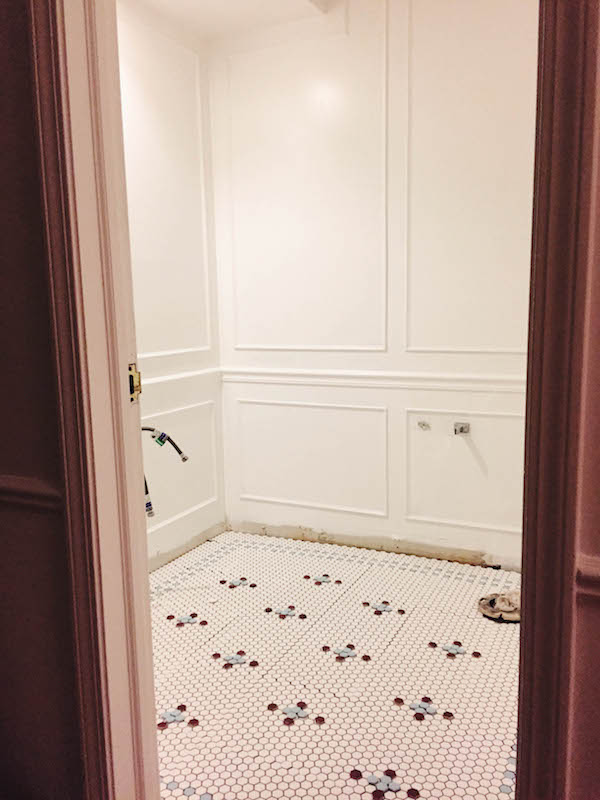 This was my favorite two color iteration, which was better without the too bright medium blue. I quite liked this one, but I had a feeling it was skewing too ice cream parlor. (Why are all my descriptors food related?)
To save time I had preemptively ordered some black hex in case the color tiles I ordered crashed and burned, and then I wouldn't have to delay and could continue with black and white immediately.
I tried some black designs.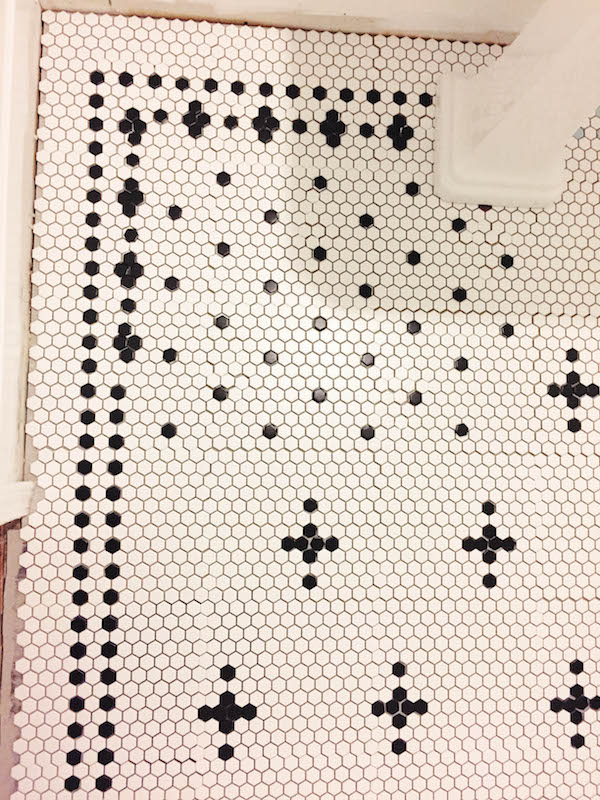 This was the hardest decision of the process because I do like things about both the colored and black options. The best thing about the colored was it was unique and looked great in a photo. The black was still cool and maybe "safe" but more versatile.
I have come a long way at not agonizing over design choices, but this one was expensive and difficult to change, so I labored over the decision. After much ado, I chose black and white! The reasoning that finally swayed me was that I thought the colored tile could feel dated. Like it would almost appear like maybe an old, original tile to the house and we just made it work. The black and white looks vintage inspired, but still completely modern. Which with all the work of renovating, I want the finish product to feel fresh and not at all dated.
Of the two black and white options above, I liked the "dots" on top more than the "diamonds" one on bottom, so I put it out over the whole room.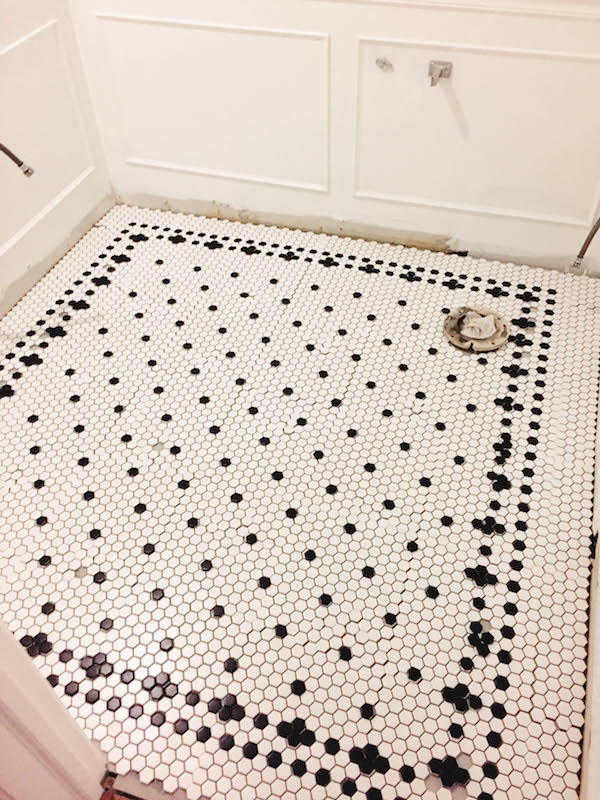 I loved it in just the corner where I sampled it, but once it was everywhere it was really fussy and (bad) victorian feeling.
We pared it way back and just did some dots throughout the room and I felt really good with it. We went through so many variations, but that gave me confidence that the one we ended up with is what I would like best.
Very happy that decision is over! Time to install!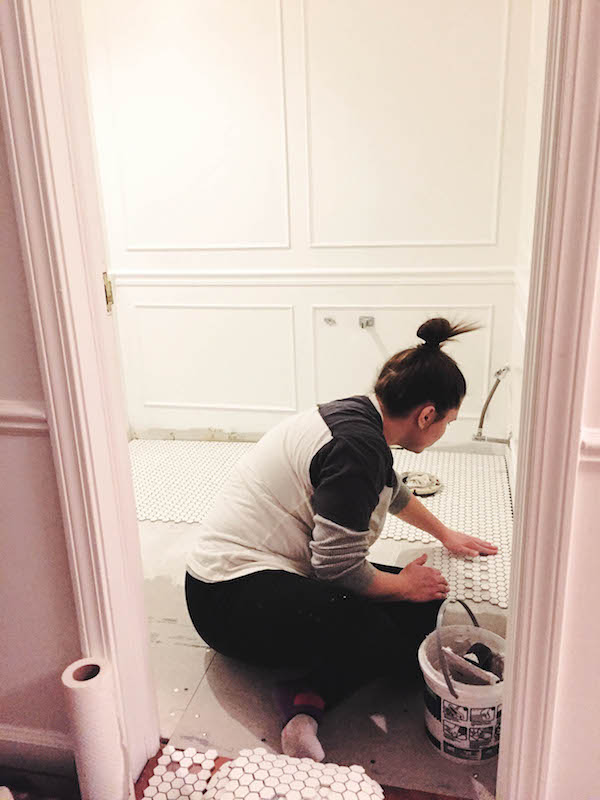 My sister in law Jamie is the tile whisperer and she laid the thin set and grout to perfection. Then we started cleaning the grout which was a huge job.
I bought the more expensive grout option thinking it would be nicer, but Jamie commented it was worse to work with than the less expensive ones she's used. And we found it much more difficult to do the grout cleaning step.
Maybe this is partly par for the course for the intricacy of hex tile, but David spent twelve work hours cleaning the grout. The left is an uncleaned side and the right is the after.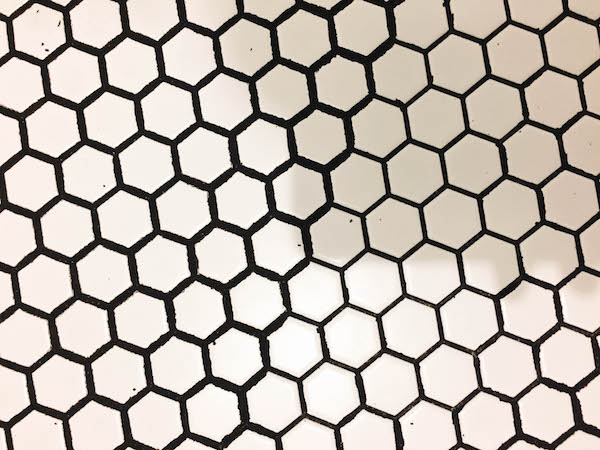 This bathroom is small and the more complex options overwhelmed it. And seeing the black grout in, I'm really pleased I went with a very subtle pattern because the high contrast of the grout around every tile is a significant presence of pattern all on its own.
It looks so crisp with the baseboards back on!

Everything before AND after ordering tile will total about six weeks. And then JUST getting this custom tile took five months. So this project has been super delayed by this element, but the actual work time to transform the room will not be long.
The wait is over! Now the fun part (well I think it's all fun but) – accessorizing and getting the room functional again. Final reveal soon!
My New Cookbook

PRE-ORDER NOW:  AMAZON | BARNES & NOBLE