I LOVE OUR SECOND FLOOR LAUNDRY SO MUCH. I've heard enough mom friends RAVE about having laundry near their bedrooms that I knew we had to add it to our renovations list. It completely transforms laundry life and makes it so that laundry is a part of housekeeping that isn't even a big deal. I can put a load in anytime I am passing by and it is so effortless compared to venturing down to our basement set up. I'VE COME TO LIKE LAUNDRY EVEN.
Here's a before (the day we moved in) and after of the little-linen-closet-that-could in our second floor landing. Yep, that door size is not changed! That was a big way to save on costs for the project. The trick with transforming our upstairs closet into laundry paradise was making sure there was enough room for ample storage AND that the units could fit in the closet without having to do anything like move walls or widen doors.
Previously I found stacked washer and dryers kind of mysterious, but the deeper I got into designing this project, the more it became clear (including from an instagram stories poll), there were A LOT of enthusiastic stacked set-up fans!
detergent dispenser | seascape print | persian rug (similar) | compact washer with steam | compact dryer with stainless steel basket | blue and white vases (similar)
So I considered both stacked and un-stacked, but in order to have a counter surface, I wanted to make un-stacked units work if possible and then we STRUCK GOLD by finding G.E.'s 24 inch front load washer and vented electric dryer. They are like, so strategically made that they are compact enough to fit in our just standard size closet. And they still can take a good size load.
Another thing I love and that completely addressed an annoying part of winter gear life is that it comes with a rack you can place in the dryer and place wet shoes on to dry them without them getting beat around the whole dryer.
The very first part of this process was when we diy installed wood flooring throughout the house. The removal of the brown carpet and green shag combination certainly did a lot. Then this room was just a beat up work stuff storage closet because it wasn't nice enough to really store linens and we knew our long term plans were to make it this. Our bathroom and guest room had plenty of storage for those things.
On the other side of this back wall is the master bathroom. It was demo-ed out as we prepared for that renovation and changed some plumbing, so this was the time to do the laundry hook ups. We hired it out from our friend, a professional. In the paint progress photo you can see the hook ups needed for a laundry set up all freshly added.
The paint color is "studio green" by farrow and ball in eggshell. I color matched into behr brand paint.
Next David built the platform and trimmed it out. Every several inches the units are up a bit from the ground makes a noticeable difference. I wouldn't mind even higher, but since we are having a counter I just did as high as we could without the counter feeling weirdly too high.
David installed a wooden countertop, the same concept using plywood as on our diy kitchen island.
And then lastly three shelves! Those are so nice to have.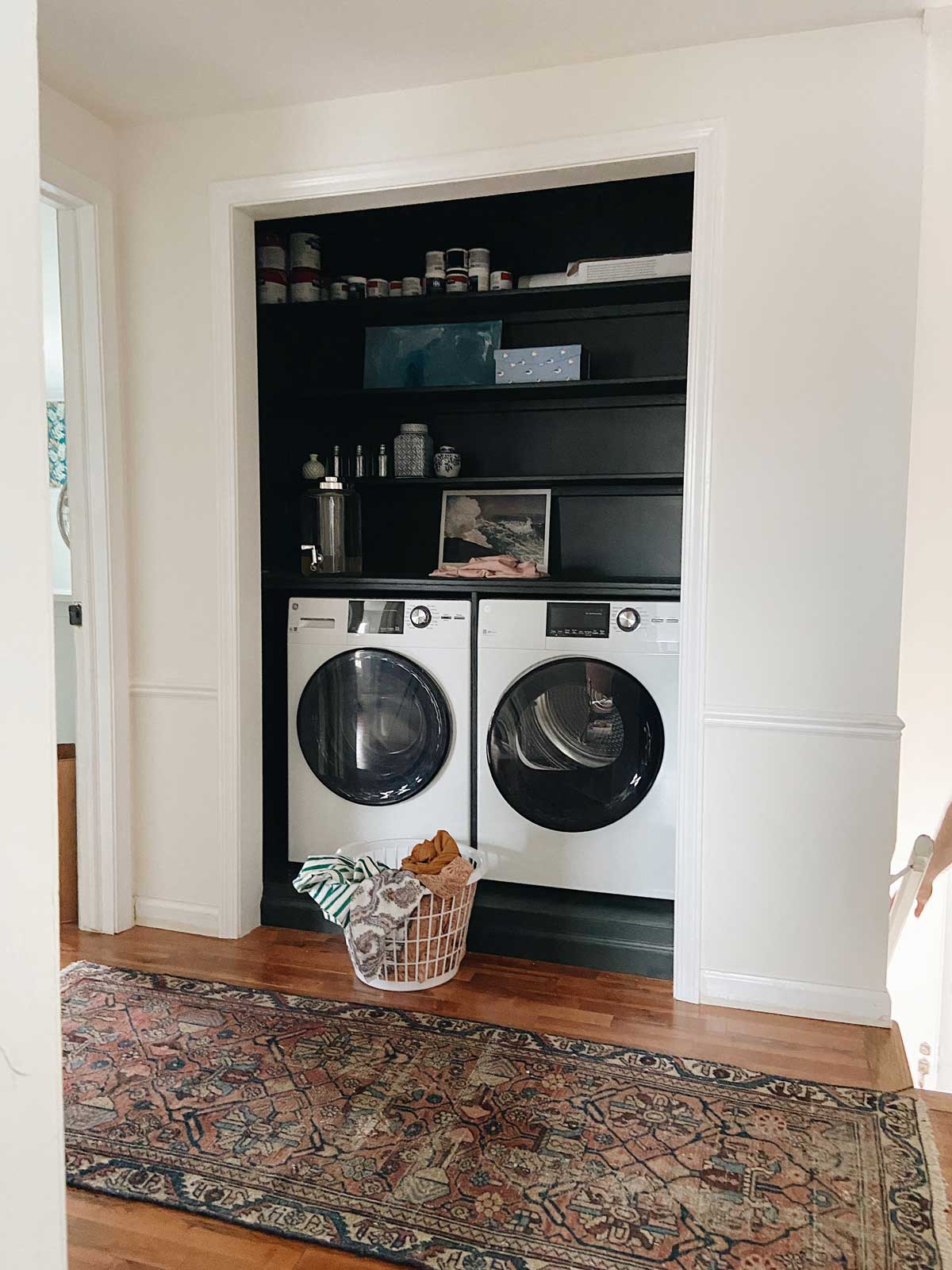 In conclusion, we adore the laundry set up here. Not overstating when I say it makes laundry feel like not even a friction point in life anymore.
Of course also because all our hampers and the dirty clothes originate from upstairs! And I can fold clothes while we are watching a movie on the bed. It's just good. Also still deciding if I want doors? They'd be nice but do I want to bother just for resale. While undecided I am going to go ahead and default with the free option! One more thing this project inspired me to throw away all my old laundry hampers and buy all matching clean simple white ones (at the dollar store) and it is a really positive feeling $6!
My New Cookbook

PRE-ORDER NOW:  AMAZON | BARNES & NOBLE